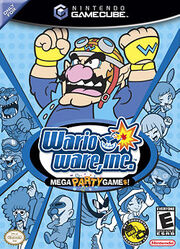 WarioWare, Inc. Mega Party Game$!, known as Atsumare!! Made in Wario (あつまれ!!メイド イン ワリオ Atsumare!! Meido in Wario, lit. "Gather!! Made in Wario") in Japan, is a game for the Nintendo GameCube and the second installment of the WarioWare series. It reuses all the microgames from the original game WarioWare, Inc.: Mega Microgame$!, but Mega Party Game$! focuses on multiplayer in particular. It comes with eight special multiplayer modes for up to four players that all involve the known microgames in some way. While it includes a few new modes, the single player mode is heavily reduced and doesn't feature the unlockable mini-games from the predecessor. Mega Party Game$ and the later release, WarioWare: Snapped! are the only WarioWare games without plots and story-themed stages.
Microgame Genres

Edit
Ad blocker interference detected!
Wikia is a free-to-use site that makes money from advertising. We have a modified experience for viewers using ad blockers

Wikia is not accessible if you've made further modifications. Remove the custom ad blocker rule(s) and the page will load as expected.