Game & Wario
Developer(s)
Nintendo
Publisher
Nintendo
Platform(s)
Wii U
Released
March 28, 2013 (JP)
June 23, 2013 (NA)
May 28, 2013 (EU)
June 29, 2013 (AUS)

Genre
Party
Ratings
ESRB: Everyone
Modes
Single player, Multiplayer
Input
Optical Disc
Game & Wario is a party video game in the Wario series developed by Nintendo for the Wii U. The game revolves around 16 minigames played using the Wii U GamePad.
The game plays mostly like the WarioWare games. But the main difference is that the mini games are longer,and there are not as many Mini games. Most of the mini games use the game pad in some way.
Wario is watching television at his house. He changes channels, until noticing a reporting about a newly released console, featuring a controller with a screen (similarly to the Wii U GamePad). In order to make a lot of money, Wario decides to create games for that console and starts working on his computer. His friends in Diamond City also hear news about the console, and have shown interest in creating games for it as well.
Single Player Minigame
Edit
Multi-Player Minigame
Edit
Over at Toy Express, people are standing in line to buy Wario's new game (since it has become a huge hit) then Wario shows up to show his credit to it, but the fans outside mistake him for the game's villain: Captain Wario. They soon pull out planks and start moving them in a synchronized motion until they fling a large ball of energy at Wario, sending him airborne. Meanwhile at Club Sugar, the rest of the crew are enjoying the games they are playing until Wario crashes into the club, with Jimmy T. recognizing him since he loves to crash a party.
Most of the characters still have black eyes instead having a different color of eyes.
There is a Game & Wario stage in Super Smash Bros. Wii U.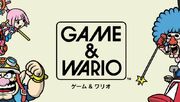 Ad blocker interference detected!
Wikia is a free-to-use site that makes money from advertising. We have a modified experience for viewers using ad blockers

Wikia is not accessible if you've made further modifications. Remove the custom ad blocker rule(s) and the page will load as expected.